Musky Fishing
 (Click www.wisconsinmuskyfishingguide.com to visit our fishing website!)
Northern Wisconsin Musky Fishing Trips
2015 Muskies Boated as of  October 20th: 143 muskies
2015 Pike over 34″ : 8
2014 Muskies Boated as of October 24th: 108 muskies
2014 Pike over 34″: 7
2013 Muskies Boated From May 25th – October 22nd:   98 muskies (avg length 37.5″)
2013 Pike over 34″:  4
2012 Muskies Boated From May 26th – October 25th:  115 muskies (avg length 37.12″)
2012 Pike over 34″: 5
Our Northern Wisconsin musky fishing trips are second to none!  I pride myself on providing my clients with a safe, enjoyable and successful outing in a positive atmosphere using only top quality gear.  Questions are always welcome and I am happy to show and share my secrets on the "wheres" and "hows" of consistently locating and catching northern Wisconsin muskies!
Captain Jeff Van Remortel puts more muskies in the boat than any musky fishing guide in Vilas, Oneida, Iron and Price Counties, if not all of Wisconsin.  Please click here to view some recent catches!

With 463 Northern Wisconsin muskies at an average length of 37″ in the past 4 seasons alone, it is a sure bet that a trip with Capt. Jeff is your best chance at boating muskies!  Multiple fish hookups per outing for our clients are common and we put several fish over the 48″ mark in the net every year!
No matter what your experience level, you WILL benefit from a trip with WDH Guide Service. You will learn refined tactics that produce muskies on any body of water they inhabit!  All rods, reels, and baits will be provided though clients are welcome to bring their own.
Items to bring include: a valid Wisconsin fishing license, polarized sunglasses, seasonally appropriate clothing, drinks, snacks and of course, a camera!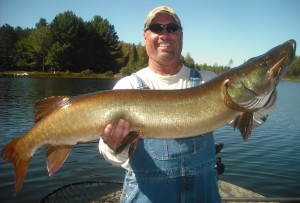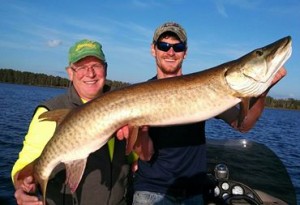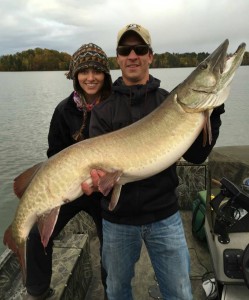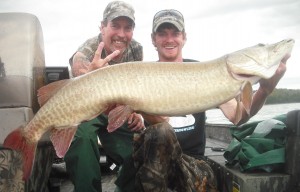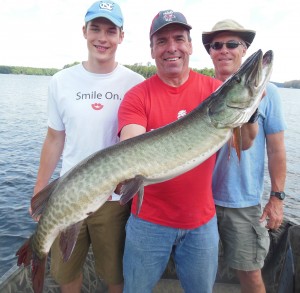 Rates:  Half Day (4-5 Hours):  $250 for 1 or 2 people (additional $50.00 for 3rd person)
Full Day (8-9 Hours):   $350 for 2 people (additional $50 for 3rd person)
                       $350.00 for single person full day trip
*Larger groups are welcome and can be accommodated with the use of additional, professional guides. Please call 1-920-639-6286 or email for pricing details on corporate outings or groups larger than 3 people.
**The cost for "follow" boats is $100.00 for up to two boats. I will provide your fellow fishermen in the follow boats with the appropriate baits and brief them on the techniques we are using for that day to ensure they have a great shot at success as well.
***Cost of bait (suckers) for fall trips is in addition to guide fee.  A receipt will be provided.
Past Seasons Highlights
(above) This 52″ Tiger musky was caught and released in Vilas County Wisconsin by Client Matt Witt of Chicago, IL.  The fish was 1/2 INCH SHORTER THAN THE MODERN DAY WORLD RECORD!!!  August 2, 2014. Please click for full story http://www.muskyhunter.com/forum/showthread.php?7617-Giant-Tiger-Released-By-Chicago-Angler&p=57349#post57349
(above) 1st Place Finish in Wisconsin Musky Tour's "Musky Country Tournament Series" on Squirrel Lake with my dad.  A quick double and off the water by 8AM! June 2013.
(above & below) 1st Place Finish in Eagle River National Open Championship Musky Tournament (click image for full story).  Over 1,110 registered anglers in tournament; 196 muskies registered!  First 6 fish win in 26 year tournament history with a record setting 223.25 inches of fish! August 2012
(below) 1st Place Finish in 2012 Squirrel Lake Musky Hunt a 48.5″ x 20.5″ monster!  It was the largest fish ever registered in the tournament's 30 year history! 150 registered anglers, 9 fish registered.  "Big fish" Individual angler tournament.
Also boated 40.75″, 36.75″ and 35.5″ muskies for most total inches. September 2012
(below) 2nd Place Finish ($9000.00 check) in World Musky Tournament Series Championship with 44″ (big fish of tournament) and 37″ muskies!  101 boat field invite only championship on Eagle River Chain.  43 fish registered. October 2012.
(below)  1st place finish with 5 fish in a  local tournament with partner Nate; 4 over 40″. Lost 3 more hooked fish and raised 8 others. Also hooked a bonus snapper!  July 2012.
(below) Clients Tom and Pat with a nice double despite cold front conditions on a guided prefishing trip for the Eagle River National Championship Musky Tournament! It was the first time either client had been on these lakes. August 2012
(above and below) Client Tom Pollack boated his personal best musky, a 46.25″ tank, and a 40.25″ musky with which he placed 6th overall and won his Lake Family using techniques and spots he learned on his guide trip!  Congrats Tom!  August 2012
(below) 6 muskies boated totaling 249.5″  of fish in 8 hours of fishing! May 2012
(26″ (not pictured), 38.5″, 41″, 46.25″, 48.75″, and 49″!)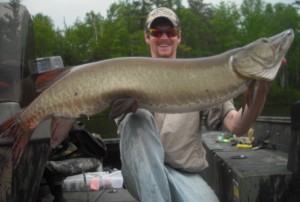 (below)  Father-son duo, clients Dan and Derrek boated 3 dandy muskies on a 4 hour, late September trip in Vilas County 2012.  Dan boated his first career musky, a 39″, on a boatside strike and his son Derrek boated his personal best, a 40″ fatty, which he later bettered with an even fatter 43″ early fall bruiser!  The 40″ and 39″ came on back-to-back casts!  The pair had action from 5 other other fish. Congrats Dan and Derrek on a great outing and some fantastic fish!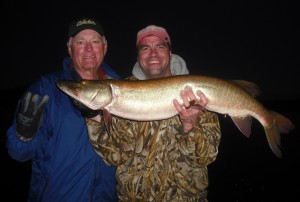 (below) Single angler, landed 4 of 8 hooked muskies and a nice bonus pike  (41.5, 40, 37.5, 36) and had action from several other fish. It was his 5th time musky fishing! July 2012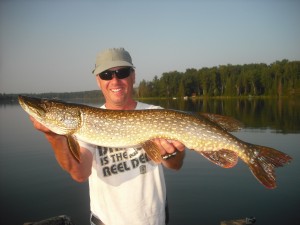 (below) A nice double for clients Mike and Steve on an early October 2012 musky trip.  Despite 20-30+mph winds and chilly fall temps, they boated a 37.25 and a 37.75, had 3 other hookups and moved several other fish!  Great day on the water!
(below) Boated 4 muskies in under 3 hours of fishing; 3 over 40″(43, 36.75, 40 & 42).  Had action from several other fish. Mid September 2012
(below) Boated 5 muskies (41, 38, 42, 44 & 32.5), lost 2 hooked fish and missed 4 other hits.  4 hours on the water!  Early August 2012
(below) Boated 4 muskies and lost 4 muskies, including 13 year old Zachary's 1st musky (37.25″), in an astonishing 2.5 hours of fishing! ALL ON FILM!  Labor Day Weekend 2012.
(below) Boated 3 muskies and lost 1 more in 3 hours of fishing! Evening after 4 fish night mentioned above!  Labor Day Weekend 2012.
(below) 5 casts produced a 41″ musky, 37″ pike and 37.5″ pike.  ALL ON FILM!  The pike came on back-to-back casts!  Early June 2012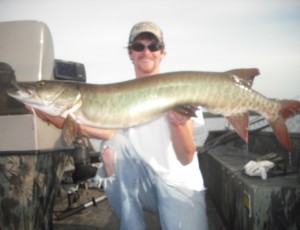 (below) Landed 3 of 4 hooked fish (38, 40 & 38.75) in 1.5 hrs!  ALL ON FILM!   38″ and 40″ muskies came on back-to-back casts!  July 2012
(below) Boated 4 fish and had action from several others in 5 hours on the water!  July 2012
(below) 2nd Place Finish in Squirrel Lake Musky Hunt 2011.  Individual angler "Big Fish" tournament.  Approximately 140 registered anglers; 6 fish registered.